A tool to generate reports from audio measurements with the XL2 Audio and Acoustic Analyzer by NTi Audio, including an interactive graph, again this is a firefox addon.
please look here for most current version including signature
old: V0.09 as of june 2015
download (103kb, xpi-file)
caution: this version is not signed by mozilla, please install the new version 0.14 from AMO link above
introduction
This tool generates a report for long time measurements with the XL2 Audio and Acoustic Analyzer. You need to log the measurement to a report file onto the built-in SD card and transfer that file to your computer. Loading it into the "XL2report" will populate some form fields and generate an interactive graph for all the SPL values that have been logged. Use the second, lower graph to zoom and navigate. Hover the mouse over the graph to see detailed values on its right side.
At the moment the report could be created in english or german language. It may be printed and if you have a PDF printer installed (you really should...) this will let you create PDFs as well. There is an option to include red marker lines at 99 and 135 dB what is interesting for measurements according to german DIN15905.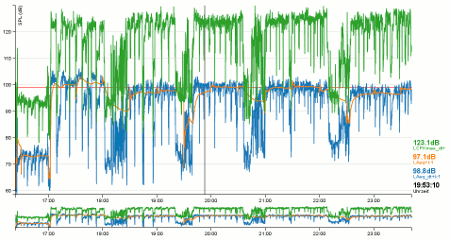 versions
version
notes
0.14 jan 2016
now with mozilla signature and hosted on AMO
slightly updated the form as well
0.09 june 2015
small fix to support files downloaded on old macs
0.08 june 2015
new listbox to choose displayed values
0.07 july 2014
only small cosmetic changes
0.06 july 2014
added a "first-run" page and icons
upon installing there will be a bookmark and a toolbarbutton added
in the add-on manager there now is an options page
0.05 may 2014
1st public version
side notes
only the first 13 measurement curves will be shown in detail on the right side of the graph
in order to view others deselect some values in the listbox
this software is neither developed, supported not approved by NTi Audio
I don't take any responsibility for malfunctions or wrong display of data
thanks to Mike Bostock for D3.js